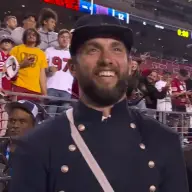 Administrator
Staff member
Donator
CCS Hall of Fame '20
Joined:

Jun 25, 2010
Posts:

38,916
Liked Posts:

29,052
In 1993-1994, the first year without Jordan, the Bulls BJ Armstrong stepped into his shoes and attempted to fill the void. I wouldn't say by any means his numbers were great at all. He did start November averaging 18 ppg, but he still wasn't Jordan obviously.

He made his one and only All-Star game in 1994, and was actually voted in. Not just voted in, but he was the #1 guard in the East and the 3rd overall in votes.
Eastern ConferenceWestern Conference
So my question for the older Bulls fans who may remember, is what made Armstrong's appeal so high that he was the 3rd leading vote getter in All-Star voting that year?