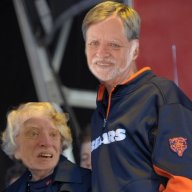 O Doyle Rules
Donator
CCS Hall of Fame '22
Joined:

Oct 7, 2011
Posts:

19,820
Liked Posts:

18,359
Location:

Dongbears is thee worst!
My favorite teams




I'm worried sick over here. What if Poles is building this Bears roster for nothing?

Elberflust sucked last year. Like most total yards against sucked. He runs a antiquated tanper 2 defense that fucking sucks. Frazier seems to be the only one with any sort of success out of the scheme.

So Poles and Elderflumbst switch personnel( yeah yeah yeah, it's base defense and doesnt really mean a total change) and the team literally gets worse.

If Elmerfuddst gets fired, the new coach is gonna want his guys. I'm worried to death over here thinking Poles fucked up the coaching hire. And now the Bears are scrambling building a team around a guy who's fucking terrible.

About the only thing Elvisnubst has done was bring HITS and discipline. So the team gives up the least amount of penalty yards in the entire league whilst simultaneously giving up the most total yards in the game?

And all this whilst the greatest qb im Justin Black Jesus Fields is on the team. Are they pissing in the Fields? Wasting his best years?


So now, no doubt, Eldermugst went to Poles and said "Hey look Poles, I'm a defense guy, ya gotta get me defensive players or I can't succeed" So Poles gets him "his guys" and the D gets back to "OK"


But the flashy trade here(DJ Moore) and there(Claypool) isn't enough.

I sure hope these players completely buy into whatever philosophy Elvishnuts is preaching in Chicago.

I'm not sold that Eberphloos is the guy who is going to bring this all together for a championship.

Anyone else staying up long nights and worrying themselves ill?


FTO please.