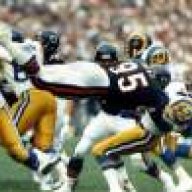 Joined:

Apr 28, 2013
Posts:

3,771
Liked Posts:

3,195
Two pretty good conversation on Jack Sanborn are here:
At this week's BOB. EJ Snyder discusses exactly what my fear of was for him: his slow foot speed makes him vulnerable to RBs coming out of the backfield and across his face. If he had played a competent team, hahaha not Detroit with a back that would have eaten him, they would have isolated him and taken advantage.
EJ does a really good job explaining how and wondering why Detroit didn't use swift to do so. Easy, they're fucking Detroit and they're going to Detroit.
Here, CFC discusses and, basically, comes to the same conclusion of EJ about Sanborn.
So, my observations mimicked EJ's about him being better at the MLB position and to avoid the responsibilities of WLB.
I hope the best for him and want to see him improve without being a liability on pass coverage. I think he does have potential, but he really needs to spend some time on his zone reads and responsibilities, particularly focusing on getting faster, as EJ said, and playing within himself to use his instincts to overcome his first step.
He may be able to play the same role on the Bears he played at Wisconsin, being the guy that is always in the right place to finish a play. Keeping him in the middle could also be accomplished by keeping a shell around him to allow him to attack. Again, I love what I see from him, but, as EJ said, if he saw it, Offensive Coordinators saw it too.
Last edited: