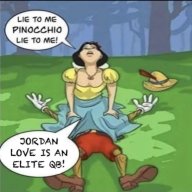 Joined:

Aug 21, 2012
Posts:

6,522
Liked Posts:

6,113
Location:

Mom's Basement
There's obviously more than a zero percent chance he falls to 9, given his recent history. Prior to that, I would have said no shot, but now?

I'd imagine it wouldn't be hard for Detroit to talk themselves into Tyree Wilson to book end Hutchinson and get the same/similar effect as they would have gotten with Carter. I could also see them going CB after their recent trade. Those two options seem just as appealing, if not much safer, than to gamble on Carter.

I haven't heard anything out of LV or ATL involving Carter, which doesn't necessarily mean anything, but if he gets past SEA and DET, I think there is a decent shot he's there for the Bears at 9. Otherwise, a trade up to 7 would be pretty easy to pull off.
I think it is Detroit, I can't see them passing on him as the upside is just to great. Seattle I could see taking him as well. LV is a no, and Atlanta I honestly I have no beat on what they want to do.
If I was betting I think Seattle takes Tyree at 5, Lions take Carter at 6. If this report is true and the Bears would draft him at 9 they have to assume the other teams will also come to a similar conclusion. This means him being available at 9 is a huge long shot a best.