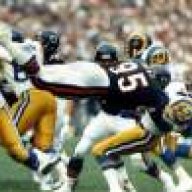 Joined:

Apr 28, 2013
Posts:

3,771
Liked Posts:

3,195
Lol I can wait for this season to play out as I really hope this dude lives up to all this hype. Wouldnt want you to go on suicide watch if he disappoints.
I really hope he does so on the Bears.
Here's something from behind the paywall since you like the money ball stats stuff so much:
From:
Breaking down our Beat Writer Mock Draft: Favorite picks and biggest questions
When we look back on it, Dallas got seven seasons and better than 10,000 yards of total offense from Ezekiel Elliott before moving on. We can argue whether he was worth it with the fourth pick back in 2016, but we cannot argue that he was worth it in the first round. The conversation about drafting running backs early is complicated, especially when a running back is truly elite.

GO DEEPER Forget NFL Draft norms, RB Bijan Robinson is a game-changer and worthy first-round pick

These are not long-term marriages. The odds a back is going to finish his career with the team he's drafted by aren't great. But if you promised me seven years of Bijan Robinson — including a four-year window in which he's elite — I'd be tripping over myself to turn the card in.
This is something that elucidated some concepts banging around my head about RB value. It's not a long term marriage, but a rocket ship.
The linked article in the quote is Detroit-centric, but a very good apologetic as to why Bijan Robinson's a first round talent .
Last edited: