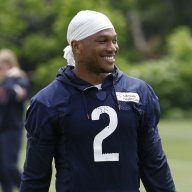 Nothing left to do but smile, smile, smile
Donator
Joined:

Sep 27, 2010
Posts:

5,552
Liked Posts:

4,719
Location:

Semi-Nomadic
My favorite teams





They are both great choices, but I'm still on Marshall. With his height and strength, he was always open. Also, he was a devastating run blocker and this team loves to run the football.

Look at this WR group:

1. Marshall
2. Moore
3. Mooney
4. Claypool
5. Scott
6. Jones Jr.

With Kmet and Tonyan as the top 2 TEs…

Plus, I went to UCF so that's the ultimate tiebreaker for me.
I am in on Marshall for one clear reason - Fields hasnt had a WR on this team yet that will outmuscle the defense for a contested ball.
I would think that a big contributor to Fields holding onto the ball instead of throwing into "NFL Open" space is because nobody really gave him confidence that the 50/50 ball is 50% for his receiver, and 50% incomplete, and no chance of an INT. Marshall could bully any DB - Claypool and ESB hardly intimidate anyone - and I would absolutely let him demand 15 passes a game.
I also want the attitude he brings a great deal of the time. This team has to many soft linemen still, and a WR that demands that they man up for his QB is a kind of fire I would like to have right now. Buy the ticket, take the ride.