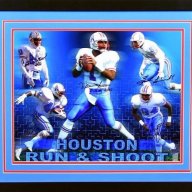 Joined:

Apr 28, 2013
Posts:

15,207
Liked Posts:

2,877
My favorite teams



You continue to miss the point.

Jay Cutler, independent of his play, cost the Bears a ton in draft capital and salary. Which again, goes to the point that others have made in this thread: it's not that they aren't spending money, it's that they spend it poorly. Which by the way, that's a point that you have not addressed.

Furthermore, your point about filling the stadium means nothing. Season tickets, as well as other tickets, are purchased well in advance of how the season plays out. So I'm really not sure what point you think you're trying to make asking that question. It doesn't mean anything.

As far as when ownership said they are dedicated to being SB contenders, George has consistently said that. He said that when they fired Pace/Nagy. He said that when they fired Emery/Trestman. You must not remember how pissed Virginia was.

Why you are so stuck on missing the point, and needing some question that doesn't mean anything to be answered, continues to amaze. Again, the Bears ownership and FO since George took over in 2011 has spent the money. To call them cheap is just flat out wrong. To call them dumb for the ways they spend the money is absolutely a fair argument to make.

At this point I'm forced to ask: do you understand what I'm even arguing?
I never said they were "cheap". However, there was a time they were. I've never heard the McCaskey's talk winning a SB. I'd like to see linked info. My point about not bringing in GM's & HC's with a winning pedigree and top experience is a fact. I hope they sell.
Other ppl here want them to sell.
And I'll bet if you took a poll most would say.....
sell the team to someone who wants to win.
And I'll just about go so far as to say, if there are a majority of ppl who say keep the current ownership.....I would consider not posting for a couple weeks. If the majority of ppl say sell would u not post for a couple weeks? It's bet worth considering.
Sell the team? Don't sell the team? It would be a interesting poll