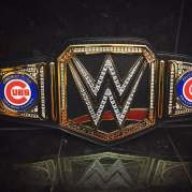 Joined:

Feb 9, 2011
Posts:

5,444
Liked Posts:

2,775
Location:

Minnesota
I got a 1 year old Dachshund mix this past Saturday. I bought him from a person who said they were "too busy for him" and I was told he was house trained.

In the first couple of days, he went to the bathroom on the floor a few times so I texted the lady I got him from and she said he either whines or stands by the door. He gives me no indication at all so far. He also gets excited as soon as I walk in the door from work and pees instantly. (my grandma has been coming over to watch him during the day so he's never home alone).

I have no idea if she lied to me or if he's just getting used to a new place and new people.

I love dogs, I grew up with dogs, but this is the first one I've ever owned by myself and I feel really nervous that it's not going to work out. Maybe I'm panicking to soon.

So my questions are:

How long does it take a dog to be re-trained in a new house?

Will him getting neutered help this at all? (I plan on doing that anyway)

Do you have any dog house training tips?