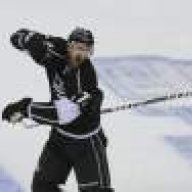 Joined:

May 3, 2011
Posts:

2,177
Liked Posts:

324
Team 1: non ppr.
Qb Drew Bree's/ peyton manning.
Rb lesean McCoy/ Steven Jackson/ beanie wells.
Wr Stevie Johnson/ Greg Jennings/ Vincent Jackson.
Te Finley/ jermaine gresham.
W/r Fred Jackson/ micheal bush.
K mason Crosby
Def Baltimore/ nyg

Team 2 ppr league
Qb newton/ rg3
Rb ray rice/ Steven Jackson/ beanie wells
Wr Wes welker/ Hakeem nicks/ Stevie Johnson/ Robert / demaryius Thomas.
Te finley/ tony Gonzalez
Wrt Ahmad Bradshaw
K Robbie Gould
Def Baltimore nyj
Def players clay Mathews/ Eric weedles.

Let me know what u think. I know I picked similar players in each draft so if one league fails both fail. Never played with defense players either so I picked randomly on them. Also feel like I took a chance on my second team with newton and rg3. It's a free league so nothing to lose.