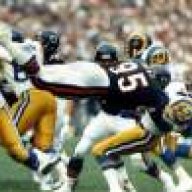 Joined:

Apr 28, 2013
Posts:

3,771
Liked Posts:

3,195
The return of the FB
is about to happen to the Bears. For those of us who actually used to like watching Matt Suhey and
Brad Muster
bulldozing the fuck out of people as Sweetness or Anderson would do their thing, this is a sweet moment, or even Rathman, (man, I loved watching him smash people), this is a good thing.
I'd like you to
view Kollman's discussion of the basic Trips to one side X to the other
. If you add in Fields' running ability to the bootleg to the opposite side as the trips with the X and the ability to threaten the pass, good things will happen for us.
I will post something on the OL later, but basically,
this system calls for Guards that used to play TE, basketball, or soccer
. Light in the feet and able to move. I want you guys to envision Tarik Cohen playing the Deebo role in this offense. With the motion and the matchups, that would be a great reason to roll the dice on him this year.
A big thank you to Harrison's Huddle for this graphic. This is the basic three choices a RB has in the zone read. I know that it's hard to see, but that is a FB opening up the "Bang" off of the 5 hole. (Edit: I was thinking about terminology. I would call this "cut", "lead", or "counter".)
It also demands a very good blocking Fullback. This will take the place of and be the type of back we all had hoped that Ryan Nall would morph into. He never did. Nagy thought that JP "fucking trash" Holtz would be that, too. Everything that phony piece of shit did was fucking idiotic.
FA needs:
FB Michael Burton, Chiefs 1.039 million
We bring him in on a one-year deal. We then sign the best FBs that go undrafted and let them fight it out like "Fuck him" Pace did a few years ago with kickers to see who makes it for when Burton moves on. Burton can act as the model for what is expected of these guys.
Draft:
Zander Horvath, FB Perdue
:28 in this video
shows some real fucking blocking. This is what I want to see a FB do: get your hands on a motherfucker and push his ass where he doesn't want to go. The Eagles wonder why Rondale Moore isn't Rondale Mooring, well, Horvath is a big reason. Yes, he broke a fibula and missed games, but bones heal a lot better than joints.
If we can snag a 7th for some dude that we trade, I'd like to snag Zander Horvath with it. He may go undrafted, but I wouldn't be surprised if Miami snags him. They are going to be our biggest competitors for talent acquisition as their HC is a direct lineage to Shanahan, having been on the Commie staff back with the holy trinity of McVay, Kyle, and FGB.
UDFA:
Connor Heyward, UTE/FB MS
I like his bloodlines, his work ethic, his commitment to the game, and his ability to block and run hard. I really like his hands. He jumped out to me in the Senior Bowl on only a coupld of plays.
Clint Ratkovich, FB/HB NI
I wasn't aware of him
until I saw his crazy good block on a TD run. 3:12 of this vid
: watch him seal the edge. That's how to fucking block. Stood that motherfucker up. That's what I want to see a FB do. I don't want to see throw yourself on the ground and hope for the best like JP "fucking trash" Holtz.
John Chenal, FB W
He's a big fucking dude from Wisconsin. Gotta love me some Wisconsin FB. Bring him in and let him do what he does. Why the fuck not?
Last edited: