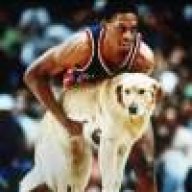 Joined:

May 2, 2009
Posts:

1,347
Liked Posts:

81
On a recent episode of the Dan LeBatard Show, Jenny Finch (regarded as the best softball pitcher ever) was a guest. When asked what Albert Pujols would do against her, it was casually revealed she "struck him out." She says on 3 pitches she got him swinging every time.

...Albert Pujols.

She also said she faced 24 other MLB players and that the only one she didn't strike out was Scott Spezio who managed a base hit.

Obviously softball and baseball are completely different to some degree (honestly, i dont know any differences beyond the size of the baseball and softball) but still i must beg the question...

If she's striking out some of the biggest stars in the world why ISN'T she in the MLB? Even if it's for a weekend series or something. If I own a team like Kansas City or Pittsburgh and i'm in need of some spark...or even the Yankees...I would sign her in a heartbeat and see what she could do.

In football the only female players ive seen was the kicker and though you can have contact and get hurt its not like there are any quarterbacks or defensive linemen (let alone defenive linewomen)...in the NBA only Candace Parker could hold her own...

But in baseball couldn't there be some of these softball superstars?

If Jenny Finch was a major league pitcher how do you think she would do?

If she played an entire season, by year 2 i'm certain she would be a Cy Young finalist...i dont think baseball has an answer for those softball girl pitchers who whirl that ball around a thousand miles an hour and throw it low.

Some of you guys have daughters who play softball...what do you think of all this?

Remember folks. She struck out Albert Pujols and a bunch of other guys...

When asked if anyone took her deep she said "Nope."