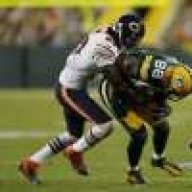 Joined:

Mar 12, 2013
Posts:

7,129
Liked Posts:

5,013
Please be honest with me. Is this a bit? Because nothing you write makes sense and you honestly come off more of a whiny bitch than i've ever seen on this board and thats saying something.

1. Last night you acknowledged i had three stances and now its one? What happened? Multiple posters have told you about other stances ive had and you somehow managed to not see them despite living in this thread the past 24 hours? Listen to yourself "it was more about hating Nagy". WHAT??? You wanted a stance and i gave you one and somehow it doesnt count because I hate Nagy? Where is the logic in any of this? Ive never encountered someone this odd. We throw around r3tard around here a lot but seriously, are you one? Whats the chromosome count looking like?

2. This isn't true at at. That is emotional hyperbole by someone who cant stand that i was right about your favorite executive. Grow up.

3. Again, you've already been provided with multiple and you've decided to be willfully ignorant. there is a lot more where that came from but unfortunately you've chosen to be either a troll or ignorant or both. Im sorry Ryan Pace was one of the worst general managers in recent memory and set the Bears back over a decade with his incompetence. At least he can rest easy knowing there are some fans out there that cherish him even though he completely failed his organization and city.

Keep ignoring facts, spewing lies and crying. Its literally all you have left.... That and your virginity.
You are funny dude....are you really asking me if this is a bit??
Maybe you've made one or two stances stashed away in some IGT...the point is, for someone with 26k posts, you are arguing about having one or three stances. You don't even see the issue with this....which I say "You csnt be serious!"
I only refer to the Greg Roman as one because you actually brought it up multiple times years apart. Even though he was barely an afterthought when it cane time for a hire this time around..
The other two were recent this offseason and weren't widely posted by you. Heck this might have been the first offseason you paid attention for all I know...You never project what route the Bears should go. But then you like to shit on every little thing when you have the benefit of hindsight.
It's proven. 26k posts....only maybe 3 stances. You dont like making projections when you could be wrong and/or have to be accountable to it. And yes, you know you would have to be accountable because you have been so critical to everyone else.
If someone defended you, I wasn't tagged or replied to. I haven't read every post. But so far, I haven't heard anyone backing you up for any stances.
You can shit on Ryan Pace all you want. Whatever. But at least he made decisions in real time. He hit on some and missed on some. But he will have a job in this league for some time because he did do alot of good. But you can continue to live in lala land where everything is so obvious and easy in hindsight.