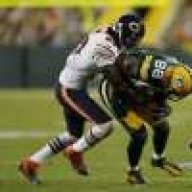 Joined:

Mar 12, 2013
Posts:

6,916
Liked Posts:

4,758
I already calculated the points for the Niners trade. It was 2200 vs 2292. But yes the Titans got less value for the 2016 first round pick which is all the more reason that claiming our trade was just ok is weird as we got 3372 of value compared to 2680 for the Titans even when they went all the way down to 15.



As I said, if you look at the trades of top picks, we got more value than most which is why your abo statement made no sense. It was more than just ok.

The trade chart was created in 1991 so would not include the 90s trades because unclear how well circulated it was in the 90s. It would have taken several years before it became widely adopted. People shit on some of those tradee such as the Ricky Williams one and called Mike Ditka nuts for doing it. So dumb trades like that are what probably lead to people adopting the trade value chart. It was like the wild wild west until widespread adoption of the JJ chart.
On one hand you claim teams use the trade chart and are precise in the numbers valued and then on the other hand you overlook hundred(s) of point differentials between the chart value and actual trade. Yet, those hundreds of points represent 3rd and 4th rd picks. Those hold value.
My point still stands. The values are different every year. Just as players are graded, Im sure they are individually assigned some form of value in accordance to the point system. For some years the guys on the top are valued higher, other years it's less. In the years it's less, teams don't even bother to make trade up offers as future capital holds potential opportunity that can not be quantified as easily as "500" points. They wait for their selection and keep the future vakue of their picks.