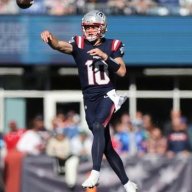 Boding Well
Donator
CCS Hall of Fame '22
Joined:

Apr 17, 2010
Posts:

33,767
Liked Posts:

40,091
So you vouched for maybe 3 things...and you didn't stick by any of them. Not even the potential only one year later of Jenkins whom you lauded after the draft.

Everyone knows you hate Pace. But they don't take that seriously since you hate everything. It doesn't make you smart. You hate every move, every decision, and essentially everything the Bears do. Not even sure why you follow this team.
Huh? What do you mean i didn't stick by any of them? I wanted Watson and Pickens and they didn't draft Them. What am i supposed to stick to? I wanted Greg Roman and he wasn't interviewed by the Bears or any team. What would you like me to stick to? I wanted Jenkins and he ended up being the wrong pick because there was more to his file than i knew. Because of that do i no longer get to shit on Pace's 7 year tenure of failure?
What do you mean i dont like any moves? You just posted this yourself
Gotta love this guy who cant even keep up with his own narrative saying no one takes me seriously. Meanwhile this manbaby has spent all night crying about how im mean to the GM who produced 1 winning season in 7 years and left Poles with a roster of turds. Lets ignore that everyone who covers the Bears and the NFL(except Hub Arkush) has stated how bad of a state Pace left the Bears. But yeah, im just negative about everything or something. Derp.